Podcast: Play in new window | Download (Duration: 43:32 — 39.9MB)
Subscribe: Apple Podcasts | Android | Email | Google Podcasts | Stitcher | TuneIn | Spotify | RSS | More
1097 Communication Costs Approach Zero… www.truckertomoffers.com www.truckertompodcast.com www.pixelbiker.com www.truckerphoto.com www.truckertomphotos.com www.findingamericahd.com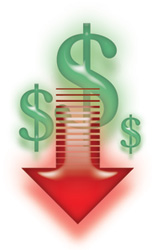 Up until the Internet came along, people were able to make paying businesses out of helping other people communicate, utilizing high-priced print and broadcast technologies. The Internet replaces those technologies and is in the process of disrupting monopolistic business models that were traditionally based around multi-million dollar printing presses and broadcast facilities.
People are now able to communicate one-to-many or many-to-many directly, and as demographics and communication consumption behaviors change, old business models that are suddenly no longer viable in today's world are beginning to crash to the ground. Owning a newspaper printing press or TV or radio transmission tower are no longer guaranteed methods for making money.
The days of making a business out of communications itself are rapidly ending. Business models themselves will therefore have to change. The only businesses that will be able to survive in a near-zero-cost of communications environment are those businesses that provide real value.
Need hosting services or domain names? Save money on great GoDaddy products by using the following discount codes:
POD139 = 10% off GoDaddy Hosting
BLU139 = 10% Off
PODSAVE139 = $5 Off of orders that are $30 or more
PODNAME139 = $7.49 Dot Com Domain Names
Get your piece of the Internet at GoDaddy.Com !!!
How would you get food if you lose your job or our monetary system ends up in a state of hyperinflation? About 50% of people grew most of their own food during the Great Depression. Today only an estimated 1% of people grow their own food or even know how. Have the satisfaction that comes from growing your own food. http://www.truckertomseeds.com